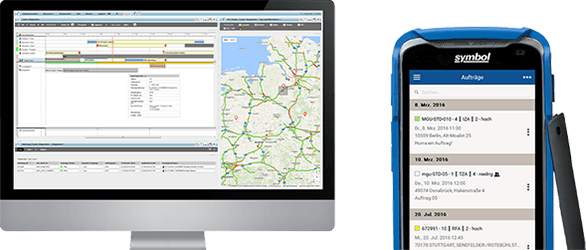 Seamlessly Manage Your Mobile Workforce
Two modules. One end-to-end solution.
Dispatch facilitates for planning and monitoring at headquarters.
Mobile is made for on-site order management.
Find Out More on the Product Overview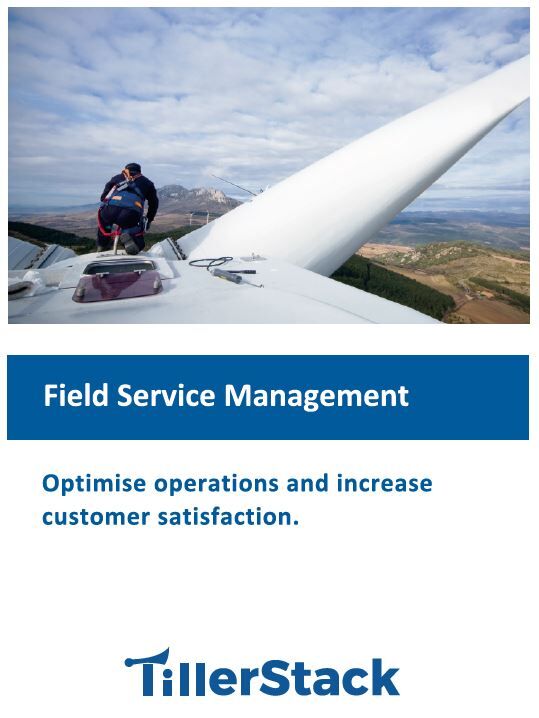 Download Product Overview
Dispatch
Everything under control.
Dispatch Features

Monitoring
Everything under control, from order status to employee GPS positions. Including a configurable message service.

Order Planning
One tool for all types of orders, from fully automatic scheduling to manual dispatching by drag & drop.

Route Optimization
Calculation of optimal routes and tours for the entire team based on Google™ Maps.

Appointment Scheduling
Take account of customer wishes with the integrated scheduling engine and score with the best service.

GIS Visualization
All planning data is easily visualised in real time, including locations, routes, points of interest and service areas.

Integration
Seamless integration into ERP, CRM and ticketing systems. Multi-client capable for easy subcontractor integration.

Shift Schedule
Integrated shift schedule with absence times as the basis for valid dispatching options.

Dynamic Teams
Do several employees have to work on a job together? With the multi-resource mode you form ad hoc teams in no time.
Mobile
All the information you need. Anywhere.
Mobile Features

Order Data
View order data and documents on-site and have the right information available at the push of a button – online and offline.

Navigation and Logbook
Using the built-in navigation to find the best route to the customer and documenting all information in a secure electronic logbook.

Reports
Whether working time, material consumption, photo or signature, all reports are automatically transmitted to headquarters.

Inventory
Syncronise your inventory in real-time straight into your ERP system (for example, SAP).

Status Changes
Keep dispatchers and customers up to date in real time – with configurable status messages and individual, order-related workflows.

Push Messages
In case of changed, canceled or newly added orders, the user will be informed directly with a push message – even with voice output.

Live Actions
View required data such as metrics, customer history or documentation with configurable live actions directly from connected third-party systems.

Individual Features
Flexible and extensible architecture. Do you need a special function for your processes? Ask us!
The Dashboard.
On the clear, three-part dashboard, the dispatcher finds all the information they need for planning at a glance. A graphical planning table provides information on available staff and their current workload. The integrated map visualizes the location of customers, orders and technicians. The job list is showing all orders that still need to be scheduled.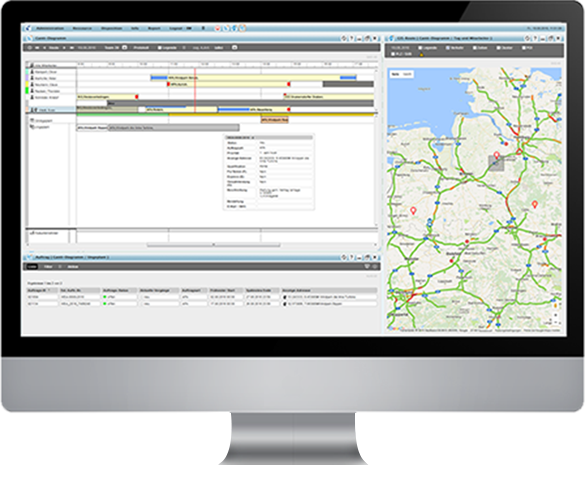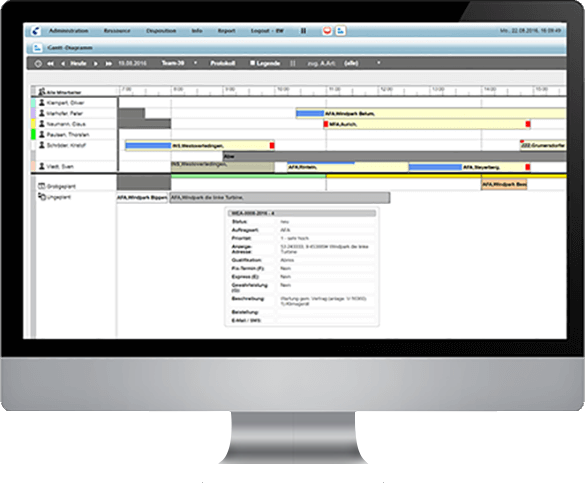 The Planning Table.
The Gantt chart is the dispatcher's most important tool. Orders from the work list can be scheduled automatically based on agreed business rules or manually through simple drag and drop.
When planning, the system takes into account all conditions to be met such as skills, appointment requests and SLA. The color-coding of the orders shows their current processing status.
The Map.
The integrated map shows the location of customers, orders and employees and visualizes planned routes. Layers with Points of Interest (POI), service areas or traffic information can be displayed dynamically. The planning and re-planning of orders is possible directly on the map. Routes can be optimized at the push of a button.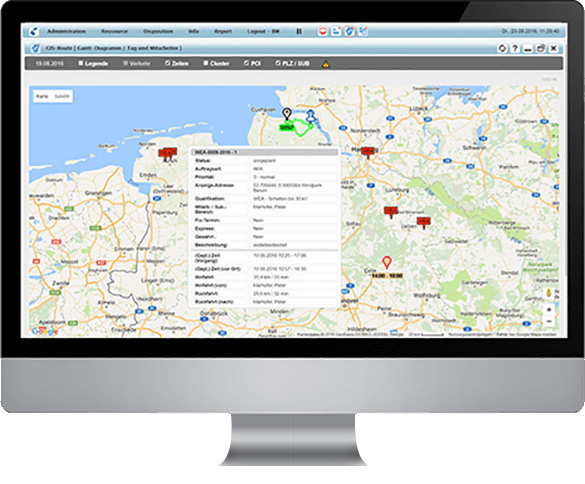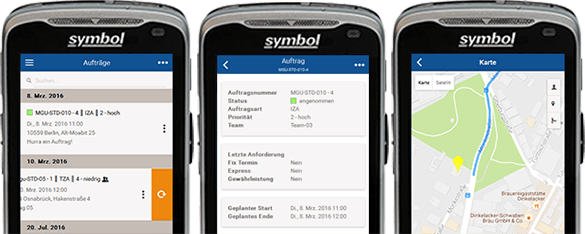 All information on hand. Anywhere. Always
Service staff can easily access order data on the move. They can report order statuses to headquarters in real-time and create confirmations for working time and use of material.
Depending on the application scenario, robust industrial handhelds or enterprise smartphones and tablets are used as mobile devices.